JumboGC® gives mid-to-large companies greater control, simplified planning, and more time to focus on what matters.
Continuity of Coverage Nationwide
A Single Quote JumboGC® covers all non-monopolistic states, meaning you receive a single quote for all states where you do business. Know what you are getting by seeing everything in one place.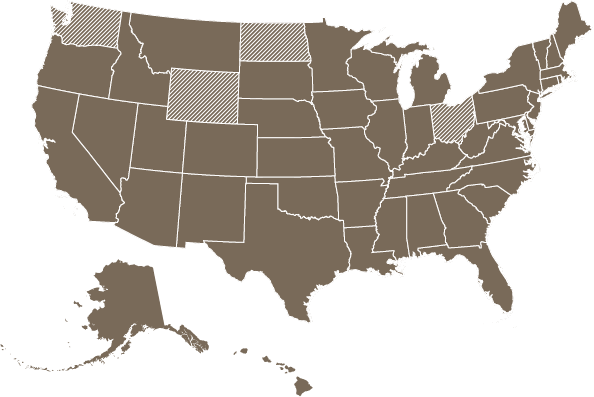 Adaptable Coverage Seamless nationwide coverage and service means you can stay focused on growing your business knowing that we have you covered wherever you go. Easily add new states simply by contacting your dedicated Account Manager. Don't miss out on another job while waiting on your workers' compensation provider.
Cost Savings with Improved Health Outcomes
Dedicated Claim Adjusters
We assign our claim adjusters fewer cases—almost half of the industry average—giving them time to truly focus on your claims. We combine this with an advocacy-based approach that will get your injured workers back to work, saving you time and money.
In-House Pharmacy
Our in-house pharmacy—one of the first of its kind among insurance companies—yields cost-savings by eliminating outsourced providers and unnecessary prescriptions that can prolong lost time. As an added layer of control, we securely deliver medications directly to the injured worker's home via FedEx with signature required for release.
Rigorous Cost Control
Our internal Medical Bill Review staff audits all medical documentation, coding, and reimbursements to identify over-billing and duplication, resulting in an average savings of 50-55% in most states, with some savings over 70%.
Return-to-Work Programs that Work
Our Revive® return-to-work programs provide injured workers the resources they need to help resume daily routines. Our mindful coaching prioritizes what is best for you and your injured worker: ensuring a smoother, swifter transition back to work that contributes to quicker claim closure with lower claim costs.
Find out more about our care-centered services and pharmacy at Promesa Health®.
Measurable Results
Lower caseloads and more empowerment for claim adjusters accelerate the claim process. Faster claim case closures result in lower claim costs.
More Certainty, More Control
Top-Rated Workers' Comp
Our carriers are rated 'A-' (Excellent) by AM Best and are licensed in all jurisdictions. Our financial strength and flexibility give you the freedom you need to keep your business growing.
Easy Budgeting
A twelve-month guaranteed cost workers' compensation policy allows you to plan and budget based on known costs. Monthly reporting and billing help you better monitor your cash flow.
Simple Enrollment
We only require a 10% deposit and don't require letters of credit or other forms of collateral.